Media release: Premier Weatherill & Malcolm Turnbull must back solar thermal with storage in Port Augusta to break energy impasse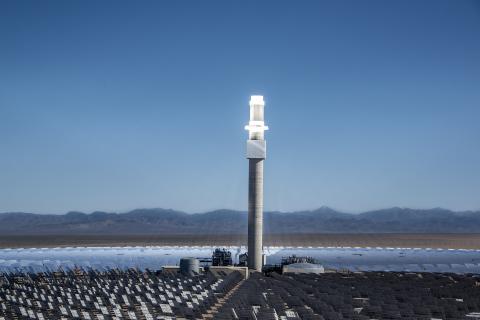 Media release: Premier Weatherill & Malcolm Turnbull must back solar thermal with storage in Port Augusta to break energy impasse
Repower Port Augusta is calling on the Premier Weatherill to use the State Government's power purchase to facilitate the building of a nation leading 24 hour solar thermal plant with storage in Port Augusta and for Prime Minister Malcolm Turnbull to use existing clean energy funds to make it happen as promised before the Federal Election*.
"Premier Weatherill foreshadowed bold steps to secure South Australia's energy future today, including using the Government's power purchase to build a new power station. It's critical that this is a large solar thermal plant with storage that can deliver clean, reliable and affordable power" Dan Spencer spokesperson for Repower Port Augusta said.
"South Australia currently has idle gas power that was not brought online to prevent power outages yesterday. The solution to South Australia's power future is not more gas but a diversity of renewable sources with storage that South Australians can rely on" Mr Spencer said.
"A new gas power station in South Australians would lock in skyrocketing gas prices and create more pollution" Mr Spencer said.
"Malcolm Turnbull must come to the table here and deliver the promised funds for solar thermal in Port Augusta rather than trying to score political points attacking our states. South Australians trusted the Federal Government when it promised these funds, now we expect them delivered" Mr Spencer said.
Repower Port Augusta has dismissed suggestions from Federal Energy Minister Josh Frydenberg that the closed Port Augusta power station could be turned back on.

"There is absolutely no way coal is coming back to Port Augusta or South Australia. Coal could not compete with clean power in SA and to suggest it could come back is a distraction. Let's see investment in a real solar thermal solution for South Australia. It's on the table now and with political will construction could have already began" Mr Spencer said.
For media inquiries: Dan Spencer 0423 865 632

* Liberals Promise to Help Fund Construction of Port Augusta Solar Thermal Power Station, The Advertiser May 18 2016 http://www.adelaidenow.com.au/news/south-australia/liberals-promise-to-help-fund-construction-of-port-augusta-solar-thermal-power-station/news-story/9fde53f07cdee969d339c69022d88ab0