It's Solar Thermal vs Gas - Repower Port Augusta Campaign Update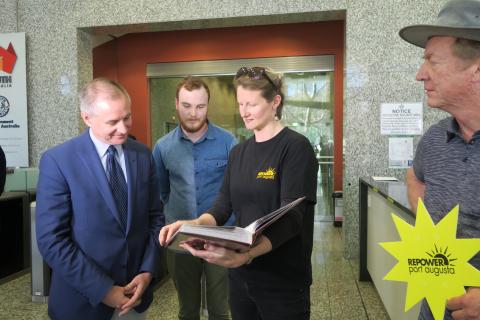 It's been a major few weeks of action and big developments in the campaign to repower Port Augusta and South Australia with clean solar thermal power. After five years of strong community led campaigning, it's come down to a contest between clean solar thermal and gas.
With your help, we're making as much noise as we can: citizen's gatherings in front of the Premier's office delivering your photo-petition, keeping the issue in the media, and a TV ad that insiders are telling us is causing a huge stir in the SA Government.
We want to keep up the pressure with thousands of letterbox drops, a cheeky billboard in Adelaide, and a video explaining why gas is not the answer for SA. If the State Government chooses gas over solar thermal we will lose this campaign and the opportunity to Repower Port Augusta for years.
The decisions being made right now will win or lose this campaign. Can you pitch in today to help us win?
Below we've written up all the amazing updates from the last few weeks:
Port Augusta TV ad aired 60 times

Solar thermal supporters deliver our photo petition to Premier Weatherill

SA Government announce a tender for their power use that sets up the contest between solar thermal and gas

A solar thermal company announce that building solar thermal in Port Augusta could lead to 5 more solar thermal hubs being built throughout SA

 
Your push for solar thermal was covered in media across South Australia over 20 times in just one week. A huge effort.
We have spent five years working together to get to this point, and now we have a true face-off between solar thermal and gas. The gas companies have the money to put a lot of pressure on the government, and we need to be doing the same. Please pitch in today - this could be your last chance to support solar thermal for Port Augusta!
Thanks for your support,

Repower Port Augusta
Your TV ad on air
Thanks to over 150 people who chipped in for former coal station worker Gary's inspiring TV ad, which aired 60 times on Channel 9 across South Australia. Thank you to everyone who made this happen.
With your support we can air the ad 40 more times to keep calling on Jay Weatherill to make solar thermal happen. We know we're cutting through, but we need to keep up the visible tactics! You can help by watching the ad and donating $35 to fund 5,000 letterbox drops about solar thermal versus gas.
Taking your photo petition to Premier Weatherill
Port Augusta locals along with 70 solar thermal supporters in Adelaide delivered your photo petition to Premier Weatherill, calling on him to make solar thermal happen in Port Augusta. The Premier came down and accepted the petition before announcing the SA Government power tender the next day. Our action was covered by Channel 7, 9, ABC, Radio Adelaide, FiveAA, AAP & the Transcontinental.
State Government Power Tender - Solar vs Gas
The day after we delivered our photo petition to Premier Weatherill, he announced the Government would tender for 75% of their power use. It is critical that this goes to solar thermal in Port Augusta but there is a high risk the State Government will use this tender for gas. Our campaign was front and centre of all the TV news coverage of the announcement, calling on Jay to use this tender to make solar thermal happen.
Six solar thermal plants for SA!
Almost 100 people turned out in Port Augusta to hear SolarReserve announce their plan to build six solar thermal plants across South Australia, creating thousands of jobs and supplying 25% of South Australia's power from on-demand clean energy. It all depends on the first plant being built and that means we need Premier Weatherill to back solar, not gas. Can you help us put up a cheeky billboard that the Premier will have to look at every day on his way to work?
We've been in this fight together for five years, and I'm so proud of what we have achieved. Thank you again for all your support. Together we will make solar thermal happen in Port Augusta.