Sign A Postcard For Solar Thermal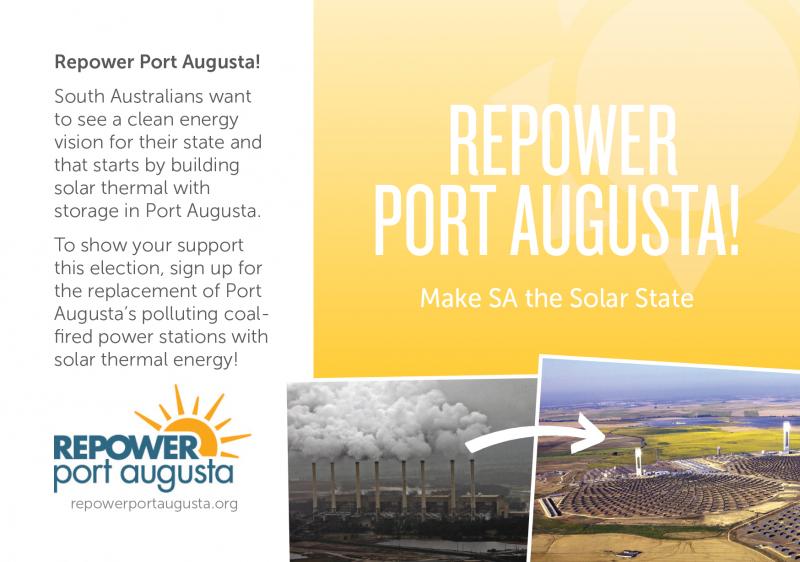 In the lead up to the South Australian election we have been doorknocking the electorates of the South Australian Energy Minister Tom Koutsantonis and the Opposition Leader Steven Marshall to ask people to sign this postcard calling from a commitment from both parties to build solar thermal in Port Augusta.

On Friday February 28th we will be delivering the postcard to Steven Marshall's office at 1pm and on Saturday March 1st we will deliver them to Tom Koutsantonis at 12.30pm, sign the postcard electronically here and join us at one or both events!
The events will be positive and family-friendly; bring along your young relatives and get them to wave a banner for solar! Find the details below:
Steven Marshall (Dunstan electorate): Friday February 28, 1pm, Steven Marshall's office—unit 2, 90–94, The Parade, Norwood.
Tom Koutsantonis (West Torrens electorate): Saturday March 1, 12:30pm, Tom Koutsantonis' office—229 Henley Beach Rd, Torrensville
"Dear Jay Weatherill, Steven Marshall, Tom Koutsantonis and Martin Hamilton-Smith,
This election you have the opportunity to commit to bringing solar thermal with storage to Port Augusta. This would bring baseload renewable energy to South Australai, be part of the solution to the high cancer rates experienced in Port Augusta due to burning coal, create new jobs and manufacturing opportunities and be a meaningful step on climate change.
While a feasibility study has been funded into solar thermal in Port Augusta and we support this step, we know that without funding for a project being available, solar thermal won't get past the study phase.
You can make this happen by bringing together Federal and State Government with industry to fund this project at little cost to taxpayers or electricity prices by committing the state government to buying electricity from a solar thermal plant or by subsidising the power price with a contract for difference.
I call on you to make a strong commitment to solar thermal with storage in Port Augusta.