Update: Parliamentary briefing and the Repower Port Augusta local group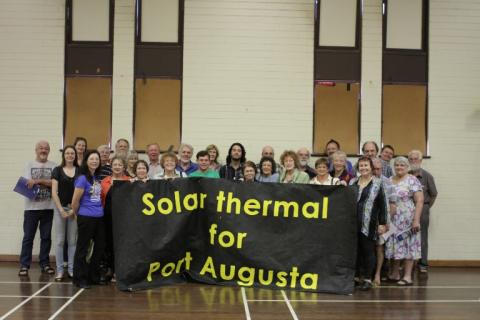 We are very excited about the formation of the Repower Port Augusta Alliance. Although we are still in the process of formalising the alliance, key groups already making a great contribution include;  The Port Augusta Regional Council, CLEAN SA, BZE, the SA branch of AYCC, SACC and 100% Renewable. Also, a special mention for Terry McBride from BZE and Paracan who is a one man community organising powerhouse! There is also a new website; www.repowerportaugusta.org
This is a campaign to make sure an additional 30% of South Australia's is renewable energy (including Australia's first solar thermal plants with storage) - and to stop and additional 30% of South Australia's power coming gas- which will ultimately be Queensland CSG- or potentially shale from South Australia.
The Parliamentary briefing
Last week Beyond Zero Emissions gave a briefing to the South Australian Parliament with Doctors for the Environment Australia (DEA). Fourteen members of Parliament presenting all sides of politics were there, which is apparently almost unprecedented for these kinds of briefings. It was arranged by Dan Van Holst Pellekaan the local liberal member for Stuart, and attendees included Isabel Redmond the leader of the opposition.
DEA gave an excellent presentation on the health impacts of coal and gas, including debunking the government explanation that the high lung cancer rate in Port Augusta (1.5-2 times the state average) was caused by a slightly higher than average rate of smoking. They also highlighted the health problems associated with gas. More information on can be found here. 
BZE presented on the Repower port Augusta plan, with a focus on solar thermal power, and highlighted the energy security risk of building a gas plant, and the risk of rising gas prices on electricity prices for South Australians. Our briefing notes and policy proposal can be found here on the Repower Port Augusta website.
Media and Public Launches
That morning (30 minutes before the beginning of the briefing) there was an excellent report on these issues on ABC RN Breakfast including a fantastic interview with Port Augusta Mayor Joy Baluch and Dr David Shearman the President of DEA. The program can be found here.
 This follows a series of positive media stories surrounding the launch of the Repowering Port Augusta plan in Adelaide and Port Augusta. Both events were extremely successful, with large audiences getting behind the call for a solar future for South Australia. A full list of media stories can be found here.
New local group forms on the ground in Port Augusta
Last night the new Repower Port Augusta local group had it's first meeting. Dan Spencer from AYCC, Gemma Weedall CLEAN SA and Phillipa Rowland from 100% Renewable travelled to Port Augusta  to attended and support the group and help with facilitation. There was a lot of excitement over the 100% Renewable campaign's offer to send two delegates of the group to Canberra for a "Big Solar" lobbying day towards the end of the month. The meeting went really well, with around 20 attendees who agreed on clear next steps for building support in the local community.
So just a big thanks to everyone involved to date, and for the great support and feedback we have been getting from all of you.