Community Calls for Immediate Action to Replace Closing Port Augusta Power Station with Solar Thermal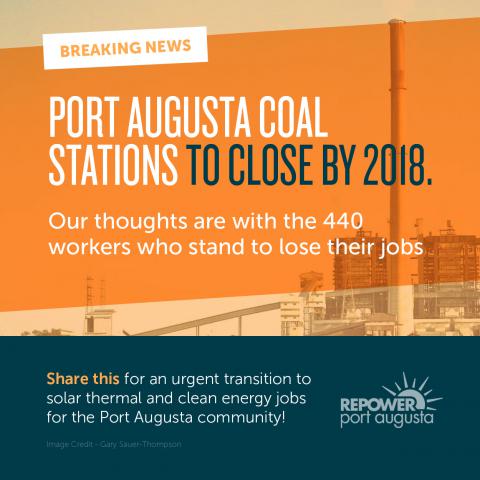 Community Calls for Immediate Action to Replace Closing Port Augusta Power Station with Solar Thermal
The Repower Port Augusta Alliance has called for immediate action by the State Government to invest in building solar thermal in Port Augusta following Alinta's surprise announcement that it will close its Port Augusta coal stations and the associated Leigh Creek mine by 2018.
"Alinta has taken the community by surprise with this announcement and our thoughts are with the workers and their families on this difficult day. Alinta had the opportunity to work towards a clean energy transition in Port Augusta, but instead it looks like they're going to cut and run, so we need the State Government to step up" Repower Port Augusta Alliance spokesperson Dan Spencer said.
"Jay Weatherill must step in with urgent funding for solar thermal in Port Augusta, to create jobs in the wake of the huge job losses the closure of the coal station and mine will bring".
"After supplying power to the state for decades, Port Augusta deserves a managed transition to clean energy jobs. The community cannot be left high and dry by this".
"There is strong international investor interest in building solar thermal in Port Augusta. The State Government needs to bring these people together, with the community to find a solution for jobs and clean energy in Port Augusta" Mr Spencer said.

Media inquiries: Dan Spencer available for comment on 0423 865 632